Home
>
UK Warehouse Grow Light
>
V99GROW 2000W LED Grow Light Sunlike Full Spectrum Hydroponic For Veg Flower Indoor Veg Flower Plants Lamp Panel UK Stock
V99GROW 2000W LED Grow Light Sunlike Full Spectrum Hydroponic For Veg Flower Indoor Veg Flower Plants Lamp Panel UK Stock
Item NO.: A006-D3-UK
Quantity
Free Shipping
Adding to cart succeed
0 item(s) in cart, Subtotal: US$ 0
Copy and share this link on social network or send it to your friends
Copy
High Cost-Effictive High Efficiency:
Feature afford price with energy-saving. Save 95% energy compared with the traditional LED Light.Covers a full 2' x 2',easily replace a 2000W while consuming 100 watts of actual power.
100% Full Spectrum:
280nm ~ 315nm: Influence on morphological and physiological processes is minimal
315 nm ~ 420nm: Chlorophyll absorbs less impact photoperiod effect, prevent stem elongation
420 nm ~ 500nm(Blue): Chlorophyll and carotenoids absorbed the largest proportion, the greatest impact on photosynthesis
500 nm ~ 620nm: Dye absorption rate is not high
620nm ~ 750nm (Red): Chlorophyll absorption rate high , has a significant influence on photosynthesis and photoperiod effect
750nm ~ 1000nm: Absorption rate, stimulate cell elongation, impact of flowering and seed germination
> 1000nm: Converted into calorie
| | |
| --- | --- |
| Product Name | V99GROW 2000W LED Grow Light Sunlike Full Spectrum Hydroponic For Veg Flower Indoor Veg Flower Plants Lamp Panel UK Stock |
| Item NO. | A006-D3-UK |
| Weight | 0.5 kg = 1.1023 lb = 17.6370 oz |
| Category | UK Warehouse Grow Light |
| Brand | V99GROW |
| Creation Time | 2022-05-19 |
High Cost-Effictive High Efficiency:
Feature afford price with energy-saving. Save 95% energy compared with the traditional LED Light.Covers a full 2' x 2',easily replace a 2000W while consuming 100 watts of actual power.
less heat release than other general grow light led's 1/3,High Par Value and High Lumen,Minimum Heat, Maximum Growth(photosynthetically active radiation)ensured high light absorption of plants to maximize the plant growth and harvest. Higher lumen and long lifespan ensured.
Special ratios of Blue/Red/Warm White/White Spectrum which based on 10 years of research and testing can be fully absorbed by the plant to photosynthesis,Best for fast growth and high yield and make sure a high Light in harvest.
Keeping heat off plants is essential.By using self-cooling aluminum and a unique heat sink design to maximize heat dissipation area, the LED maintains a cooler temperature even after 24 hours of continuous use.
Quality Parts-Not Jelly Bulit,Safe to use!
Light pass Strict quality standard. ETL, UL, CE, RoHS, SAA, PSE cetificate.Stronger hanging kits are available for easy installation. 100% Safe to use, zero risk!no worry of fire or security threat,long-life.

Application:
1) Seeding / Breeding/ Veg/ Flower/For all planting stages / Green Vegs / Flower Plant / Fruit Plant / Herbs / Medical / Meat Plant etc
2) Hydroponics / Horticulture / Indoor plants / Greenhouse Lighting / Pot Culture / Farm / Water Soluble Breeding / Pipeline Cultivation etc
3) Exhibition / House Garden / Bonsai / Home / Commercial Crops / Project / Personal Growing / Urban and University Research ect.

100% Full  Spectrum:
280nm ~ 315nm: Influence on morphological and physiological processes is minimal
315 nm ~ 420nm: Chlorophyll absorbs less impact photoperiod effect, prevent stem elongation
420 nm ~ 500nm(Blue): Chlorophyll and carotenoids absorbed the largest proportion, the greatest impact on photosynthesis
500 nm ~ 620nm: Dye absorption rate is not high
620nm ~ 750nm (Red): Chlorophyll absorption rate "high", has a significant influence on photosynthesis and photoperiod effect
750nm ~ 1000nm: Absorption rate, stimulate cell elongation, impact of flowering and seed germination
> 1000nm: Converted into calorie

Description:
Red

(

24LED

)

(

Wavelength: 620nm 660nm

): Help plants grow and flowering , red LED is the key for flowering plants.


Blue

(

16LED

)

(

Wavelength:450-460nm

):Help plants grow.


Warm White

(

48LED

)

(

3000K=Sunlike,380nm-800nm

help plants grow and Flowering) (Most Appropariate light proportion for increasing the yields of Commericial cultivation) Use for all stages of plant growth and Bloom.


White

(

12LED

)

(

6000-6500K, 430~440nm, 450~475nm, 620~630nm, 650~670nm

) (Most Appropariate light proportion for increasing the yields of Commericial cultivation) Use for all stages of plant growth and Bloom.
Item Type: 100 LED Grow Light
LED Quantity: SMD3030 100PCS (

Red 620-660nm

24PCS

,

Blue

450-460nm

16PCS

,

Warm White

3000-3500K

48PCS,

White 6000-6500K

12PCS

)
Rated Power: 600W
Actual Power: 85W±5%@AC110V; 85W±5%@AC240V
Amp: 0.77A/110V; 0.35A/240V
Input Voltage: AC100-265V
Noise Level: 0 DB
Covering Area: Φ0.8M  (0.46M height)
                         Φ1.3M  (0.90M height)
                         Φ2.0M  (1.50M height)
                         Φ2.4M  (2.00M height)
Full Spectrum: 380-800NM
Body Size: 258*258*45 mm / 10.16*10.16*1.77 in
PAR: 30cm/11.8in height   971.6 μmol/m2•s (Seeding ON: 15-18H)
         60cm/23.6in height   360 μmol/m2•s (VEG ON: 12-15h)
         90cm/35.4in height   179 μmol/m2•s (Bloom ON: 10-12h)
Material: ABS
Net Weight: 860g/Pcs
Gross Weight: 1.29kg/Pcs
Application: Widely used in hydroponics ,horticulture , green house ,bonsai lighting etc.
Cetification: RoHs,CE,FCC,100% Safe guaranteed!
Lifespan: ≥ 50,000-100,000hours
Accessories: Power Cord, Hanging Rope
1 x Free Power Cord (UK Plug)
How do I determine the right light for my grow area?
Measure the floor space. Multiply the length times the width and this will give you the square footage. You should be able to get decent results with 30-50 actual watts of power per square foot.
For larger areas should I go with a single large panel or multiple medium to small lights?
Using multiple lights allows you to better distribute the intense light in more areas of the grow space instead of having all of the higher intensity light concentrated in only one area while the outer edges never receive intense light.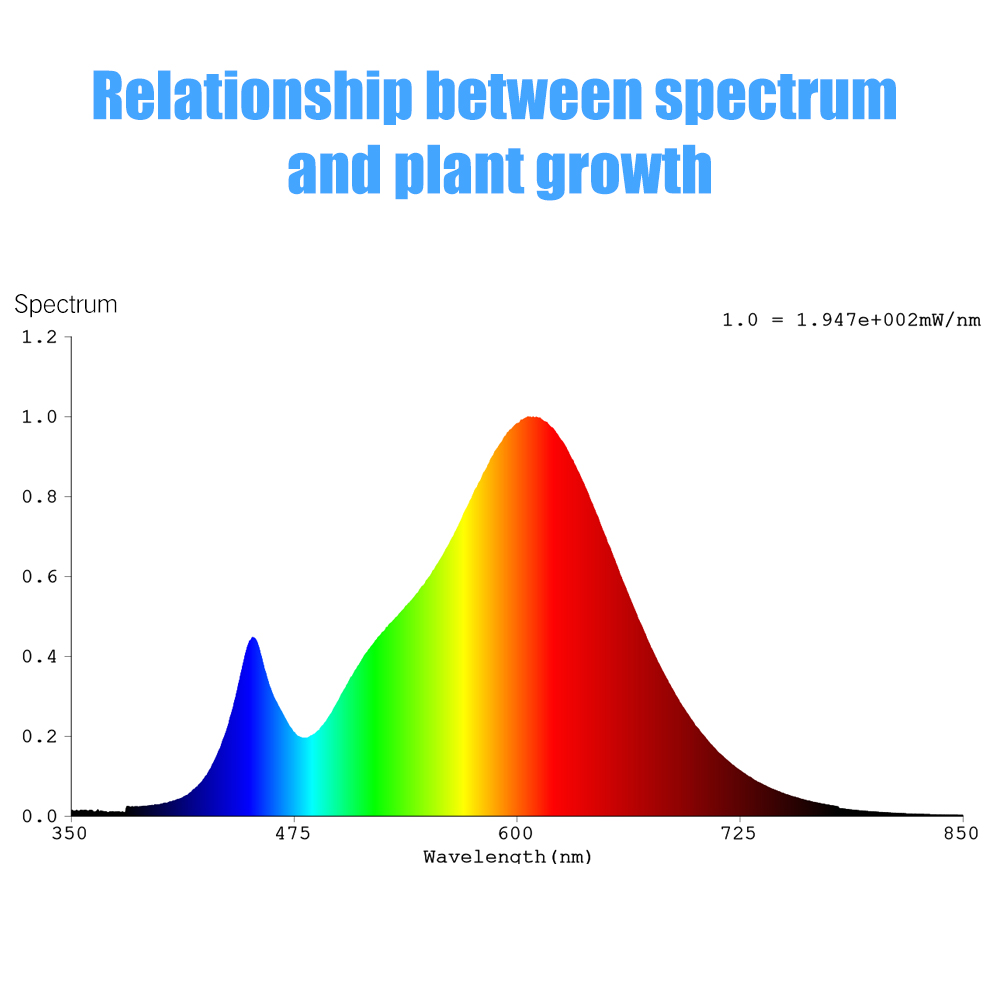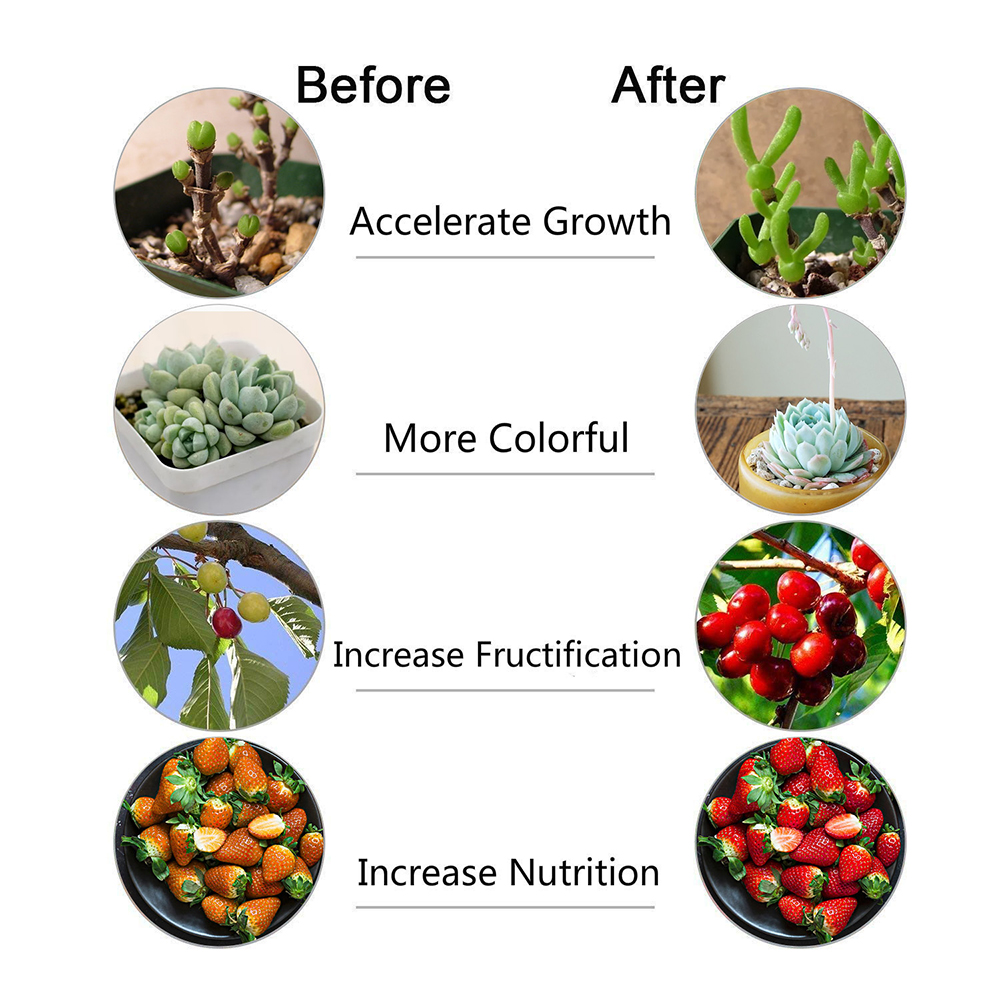 ABOUT US
Newsletter

Join our community